1 APRIL 2022, PJ – We are happy today to announce MyMP's NFT Auction, entitled "NOW, EVERYONE Can Buy MPs!". We have secured 10 MPs for our first sale, available at our OpenSea page here for auction from 6pm on April 1st for exactly 7 days.
OpenSea Collection: https://opensea.io/collection/mymp-collection
Discord Channel: https://discord.gg/rfyuFrc7uZ
The purpose of this NFT sale is to raise funds to further develop MYMP throughout 2022, as detailed in our roadmap below.
Phase 1 – Pilot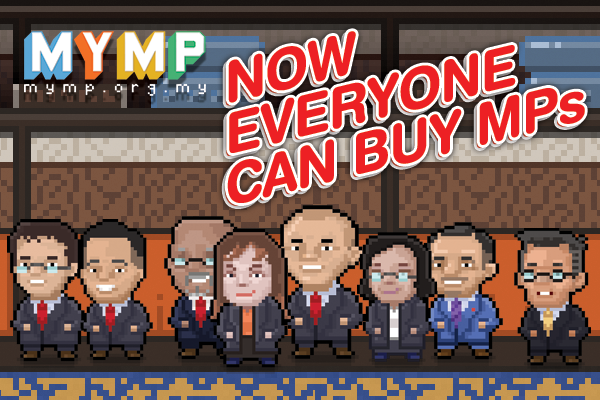 This is where we're at currently. We have already secured the permissions of 10 Malaysian MPs to sell their avatars on our first NFT sale. There will only be 10 NFTs in Phase 1 and 212 in Phase 2, only ONE NFT per Malaysian MP, with a floor price of 0.1ETH, to be Auctioned for 1 week on OpenSea.io starting on April 2nd 2021. Here's a list of the MPs who have agreed (we actually emailed ALL 220 MPs… Ahem), whose profiles will also now include a minted badge heheh.
These NFTs are incredibly exclusive, and carry special governance powers moving forward with our tokenomics targets of Phase 3 to influence the development of MyMP moving forward.
Executables
Update artwork to MPs specifications

Mint NFTs 
Phase 2 – Full Load
This is a continuation of Phase 1, expanding to the remaining of the 220 MPs.
Conditions
Phase 1 sale complete

Proceed to upload all remaining MPs (with permissions)
If you're an MP and you would like to participate in our program, please email us at [email protected]
Executables
Create reach goal targets with MPs (if you reach 1ETH, what will you do)

Virtual Launch Event for

Now Everyone Can Buy MPs NFT Campaign

Media blitz (Press Release)

Onboard more MPs

Update artwork to MPs specifications
Phase 3 – Planning for Success
This phase kicks off immediately after the GE15 election. With each election cycle, the MPs will be redrawn and relaunched as a new NFT collection. Thus we will be drawing all 222 MPs again, with up to 10,000 NFTs [COL1] generated with a variety of outfits and appearances, sold at 0.01ETH, using a Blackbox method.
All funds will be diverted to GomenGames Sdn Bhd, the company we founded to run MyMP. While we will withdraw from our ETH account to FIAT regularly and transparently, no funds will be taken out of the company except running costs. and moderate salaries not exceeding USD2k per person per month for the first two years of operations.
3 months after the first sale of Phase 3, we will assess our revenue and adjust our targets according to the reach goals below.
Reach A (USD25,000)
Enhance current website, and maintain for 2022

Hire Volunteer and Data Executives

Increase datapoints on HANSARDS

Scraping program for HANSARD digitization
Reach B (USD50,000)
Begin work on

Fantasy Parlimen

Game

Token launch

for NFT owners and volunteers

Update Stat counters for more interactivity

Data Visualisation functions – Compare MPs
Reach C (USD100,000)
Hire full-time dev team to work on

Fantasy Parlimen

game

Explore other blockchain possibilities with NFT

Hire more staff to enable ADUN tracking
Reach D (More than USD200,000)
Create

MYMP Beats

game

Hire franchise director

Expand staff for regional team

Franchise MyMP to Indonesia, Thailand, Singapore
Fantasy Parlimen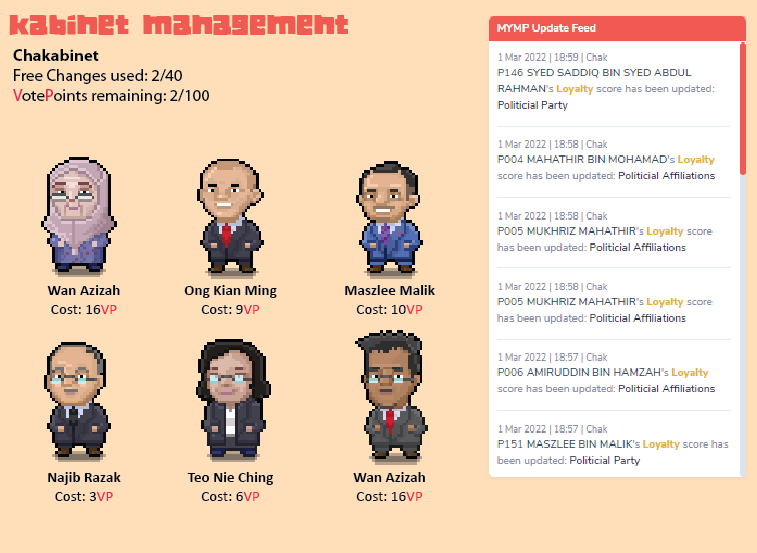 The Fantasy Parlimen game is basically taking the concept of sports-fantasy games, and utilizing that competitive behavior to get users to assemble a team of MPs that get the best progression throughout a year of parliament seatings.
 

Each MP will have a price in

VotePoints

, based on their performance in the real world.
 

Pro and Premium accounts will be made available, with a higher

V

ote

P

oint budget. All Phase 1 and 2 NFTs will receive Premium accounts.

MPs will then be given or deducted points based on real-world conditions such as

+ Asking questions in Parlimen

+ Completing their contact information (socmed, service centre)

– Switching parties or alliances

– Getting arrested

– breaking pandemic SOPs

The scoring algorithm will be reviewed each year by consensus of Governance tokens issued to NFT owners
MyMP Beats
A rhythm-combat game where the MP needs to destroy obstacles in a side-scrolling level, according to beats of songs.
Players will get a low-level MP to start, and need to spend tokens to get better MPs

Phase 1 and 2 NFT Owners will get to start the game with their owned NFT (higher stats)

The higher your accumulated scores, the more songs and levels you will unlock

Each MP will have power-ups based on their scores e.g.

A high

Availability

score will allow them to have more 'health' in the game, to be hit by enemies and not die.

A high

Transparency

score will allow them to phase through a limited number of enemies, not disrupting their combos

A high

Work

Ethic score will increase score bonuses on each enemy hit

A high

Loyalty

score will increase scores each time the player plays the same song

A high

Win-Ratio

score will unlock higher difficulty levels and increase the amount of enemies on screen.