Just before we knew what an MCO was, the nation was caught up in another K-drama (Kerajaan Drama) known as the Sheraton Move. And despite there being what appeared to be winners, the general feel amongst Malaysians was that everyone was a loser.
During that eventful March, and in the ensuing months, amidst the world-beating pandemic, we got to see the worst of Malaysia's politicians politicking.
Throughout that period, a bunch of Malaysians who were angry, and unproductively stuck at home somehow snapped into constructive mode.
"Guys. What can we do to prevent this from happening ever again?"
We knew that there had to be a way to keep our politicians in check, and what better way than to give Malaysians an easy (and objective) way to track how your politicians are performing. For real.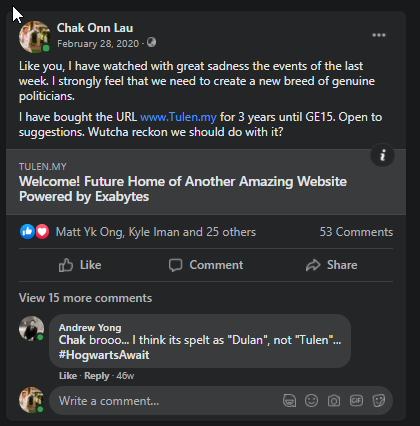 There are sites out there that track political information, but most of them are difficult to use, and would only appeal to someone perhaps doing a thesis or an investigation. To get POLITICIANS themselves to care, we needed more.
Drawing from my experience at cilisos.my and Seah's experience at another MP tracking platform, we had an idea – make tracking politicians like seeing the stats of RPG characters. The system would prioritise two things
To display Malaysian MP performance statistics in an easy and attractive way
To use only objective data that cannot be misinterpretted.
Knowing this, we approached MCCHR (Malaysian Centre for Constitutional and Human Rights) in late June to revive a project they had a few years ago called MyMP.
MyMP's previous version tracked politicians' contact data mainly, as well as some other personal info. However, we wanted to broaden the scope to include parliamentary attendance, asset declaration and of course how many times they've switched parties and alliances over the years.
In November 2020, MCCHR worked to pull funds (not much la, less than RM50k) to build a new version of MyMP. And this is what you see before you now – our work in progress.
We are endeavouring to launch this by March 2021. If you're interested in being part of the project, or to donate, please refer to the links above.
At the end of the day, as demonstrated by the last election, Malaysia still is a functioning democracy. Join us, in the hope that with a little bit of work, we can cultivate a better class of leadership.