Back in 2015, there were viral social media posts (which have since been removed) and news reports on MalaysiaKini and Cilisos that dissected the watches worn by our politicians. Some of the prices of these watches alone were going deep into 6-figures which raises questions as to how our politicians were able to afford them despite them earning a low to mid 6-figures salary. #wealthinequality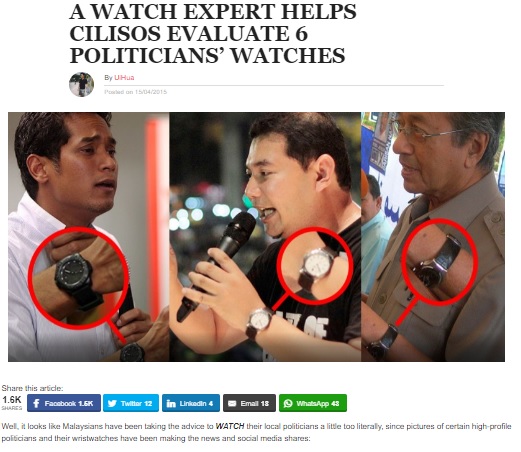 So when we revived MyMP in the current iteration, one of the key things we wanted to track was how transparent our MPs were with their finances, specifically their assets and income. Regardless of the status of the assets and incomes themselves, a willingness to disclose it would indicate an MP with the goal of being transparent, which we can all agree, is a good thing.
We set out to find any official sources that exist on our MPs' income and wealth, as one might expect those information are almost non-existent. That changed in 2018 when Pakatan Harapan took power, where they listed all the assets and income of the cabinet ministers (including those who aren't MPs but senators) and MPs within their coalition on MACC's Asset Declaration Portal.
But when we went back inside, the asset data had been… removed?
However, earlier last week when we visited the MACC portal, we faced a huge problem. MACC had removed all the data with a disclaimer that said they will not be publishing any data for more than 3 months from the date of receipt of the documents of declaration. It was unclear why and when this decision was made but it didn't deter us from attempting to do further research.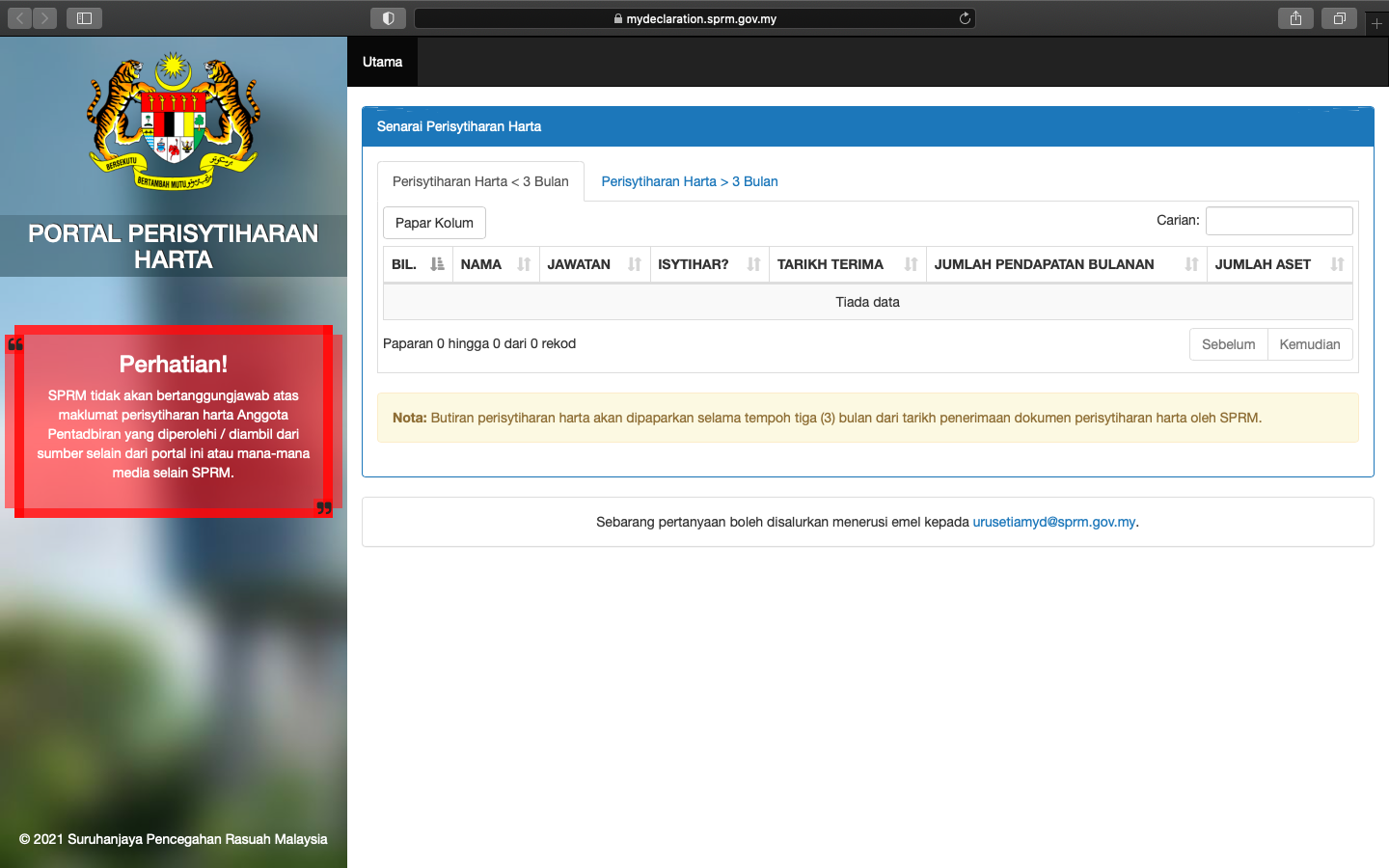 Since this screenshot was taken, 1 solo, hero MP now has his assets declared. Well done to our Works Minister, YB Fadhillah Yusof!

The website does allow you to see WHO declared their assets via this tab, but the values of the assets are sadly gone forever.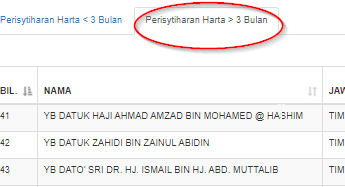 Or ARE they?
Thankfully, the Wayback Machine doesn't forget. And now, neither do we.
As it turns out, MACC had actually put the portal on maintenance before i.e. once in May 2020. But you might be asking how did we know this? We used the Internet Archive, a non-profit archive of the entire internet, and went back to the days when the MACC portal was archived.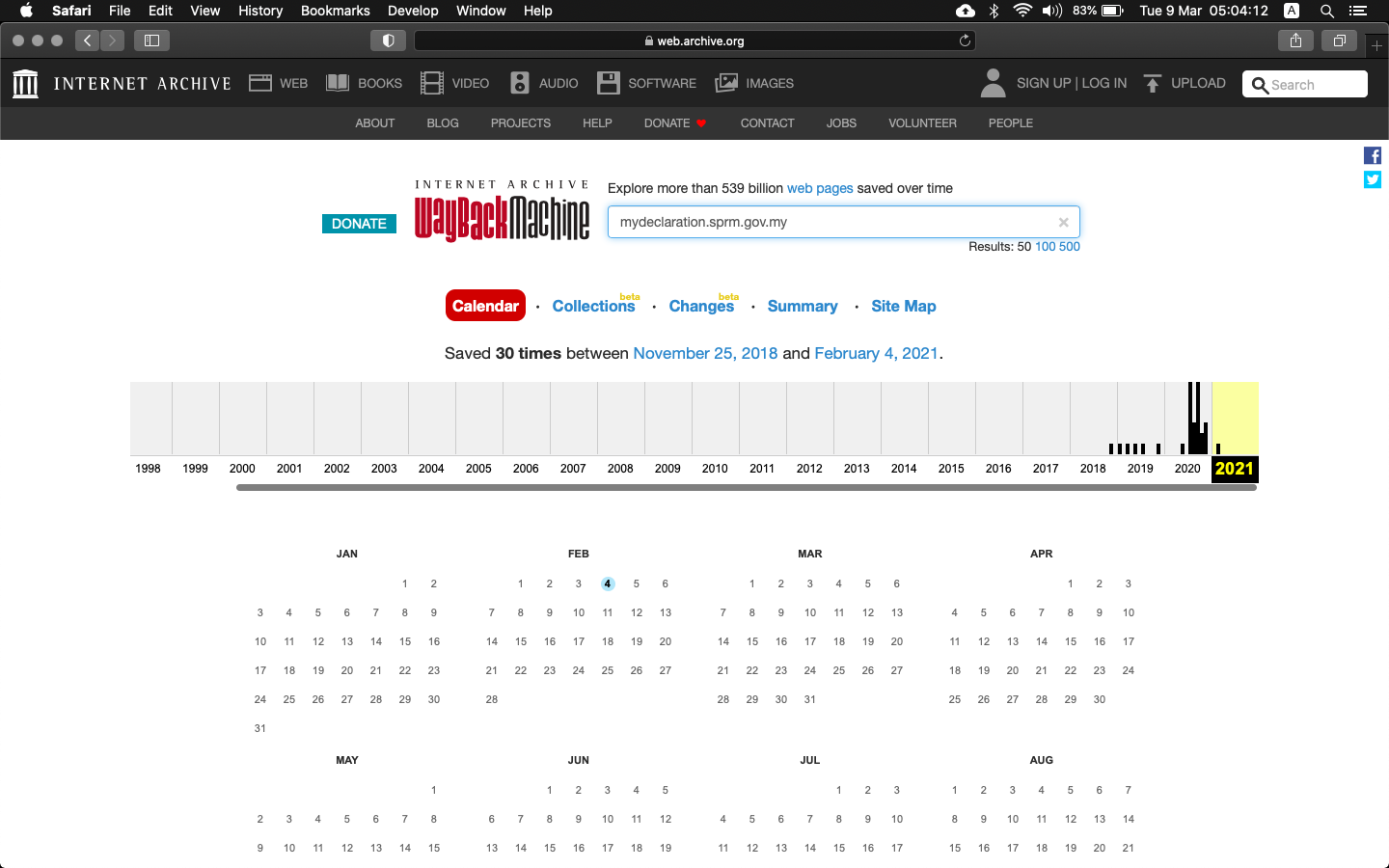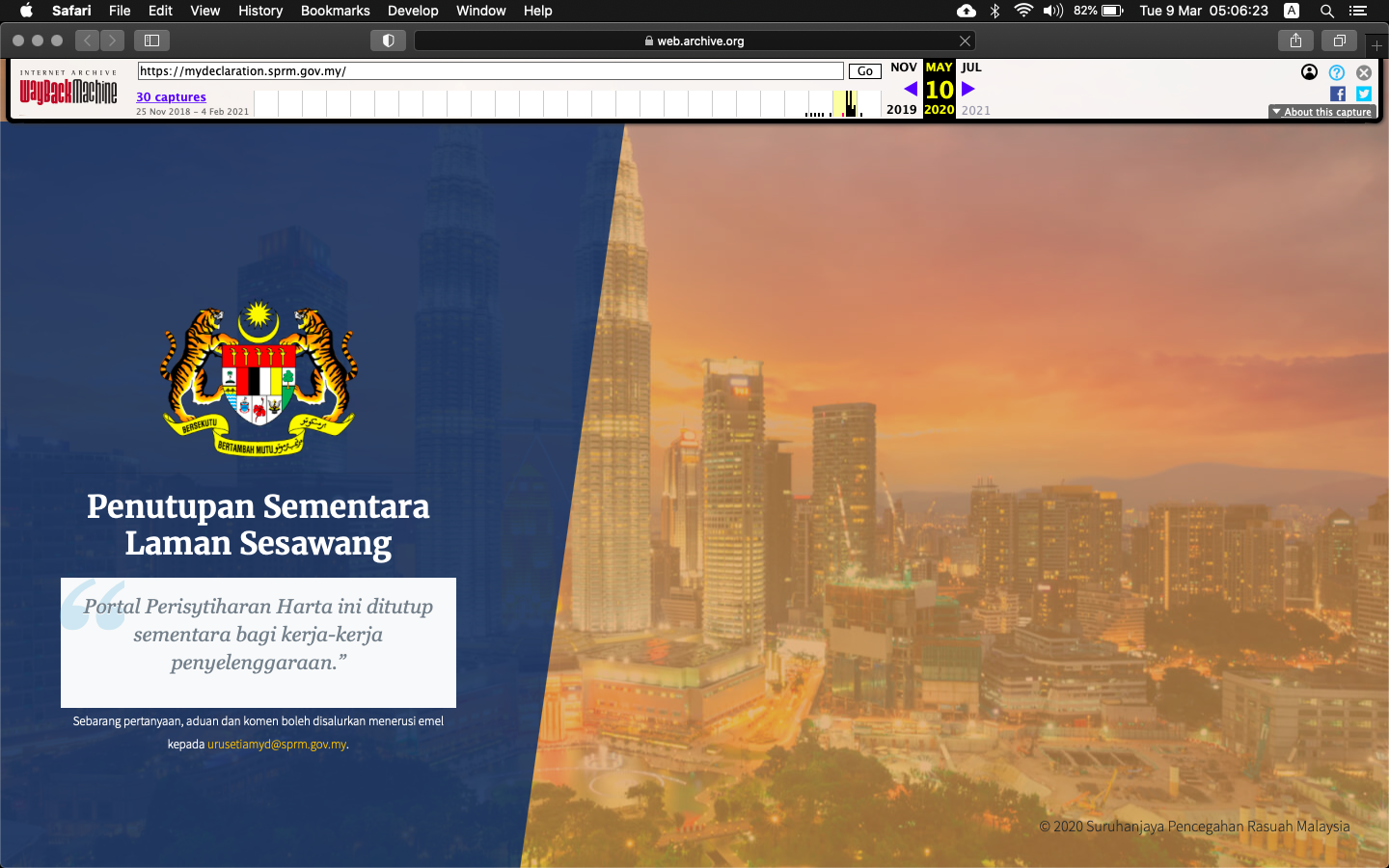 To overcome the problem we relied on the Internet Archive, to go back as far as 14th November 2019 when Pakatan Harapan was still in power to scrape all of the data available on the MACC portal using a simple Python script.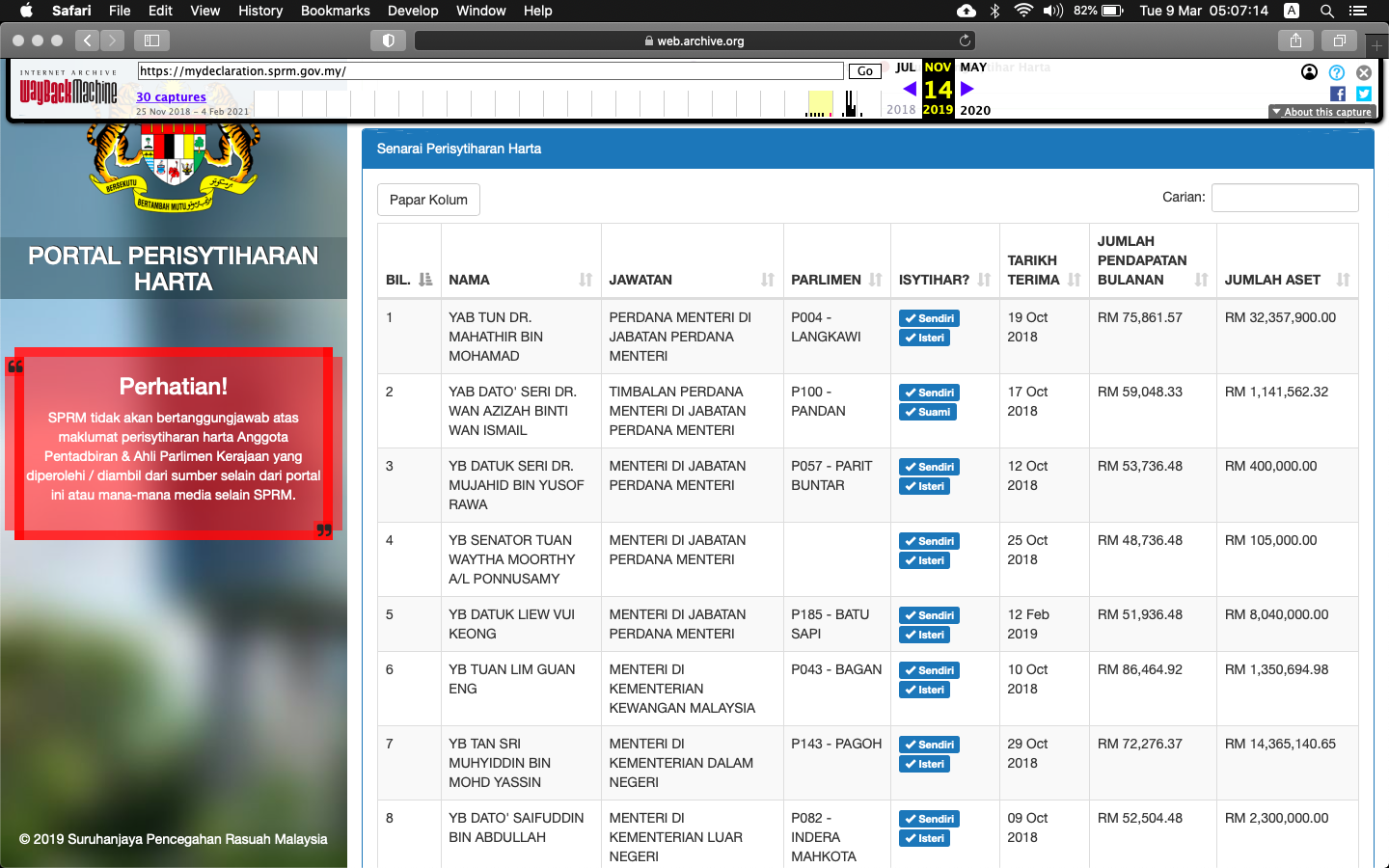 And we did the same to scrape the data for the Perikatan Nasional government that was available up until 25th November 2020.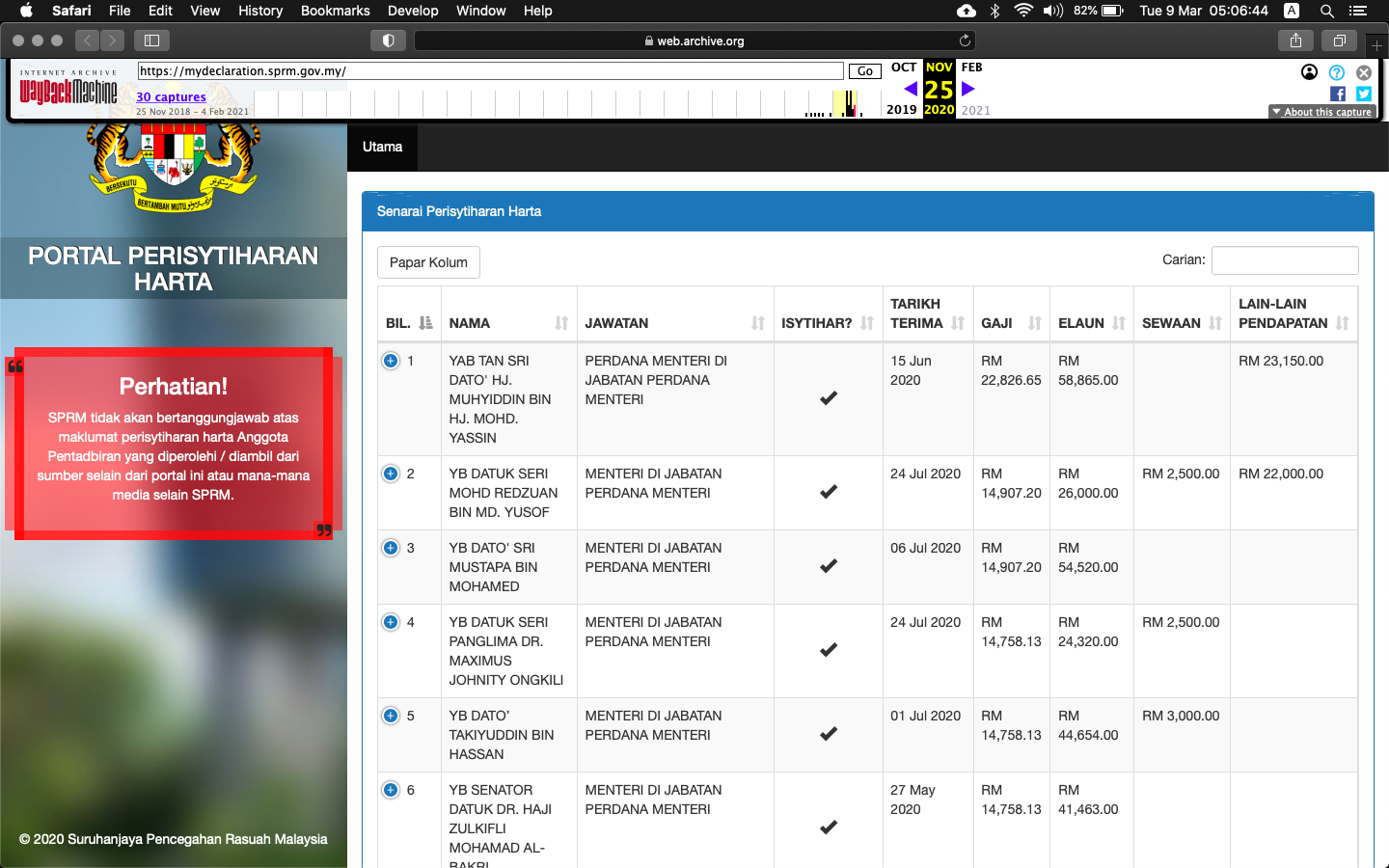 Even with these data, there are still a lot of problems with it, chiefly among them was that neither Pakatan Harapan or Perikatan Nasional provided a detailed breakdown of what their assets and incomes were derived from.
With what we know now, we call on the MPs and the public to support our project by doing the following:
As a voter, you can exercise your democratic rights to call on your MP to submit their asset and income declaration through a Statutory Declaration to us for archival purposes.
As an MP, you can take the declaration process to strengthen your public image and put public concerns to rest with regards to your finances.
P.S. You can click on all of the images to go to the source and check out the data for yourself.
Wanna help us monitor MPs?
If you'd like to help our initiative, please volunteer to get data with us! We rely on a team of volunteers to keep our data up to data, so head on over to mymp.org/volunteers and help us improve the quality of Malaysian politics.