So first off, don't flame us if we missed anyone, because there are ALOT of drops this GE15 (let us know in the comments tho!). So many, that it's definitely one of the main topics of conversation. While some are still running in other capacities or for other parties, and others are relinquishing their seats voluntarily (yes we realise this isn't technically being dropped, but we couldn't think of another word), we thought it would be important to see if these incumbents performed well in their roles as MPs leading up to this election, and see if there were any shortfalls to justify their exclusions. To make this easier (for us, and for you), we'll divide them by party.
Click on any of their profiles to see the full data :)
1. DAP (8 dropped)
During a fundraising dinner in Kelana Jaya, DAP dropped the bombshell that a few big names (including the MP with the highest win margin in history) would be dropped. So far at least, they seem to have dropped the most. Here are the incumbents that are confirmed not to be running (at least with DAP).
Tony, Kit Siang and OKM have made hints at not running prior, and so it has come to pass. Kasthuriraani has retired of her own choice, while Wong Hon Wai will be "helping on a state level instead" according to Anthony Loke. Charles Santiago on the other hand has indicated that while he had wanted to run, he is respectfully standing aside. He does protest to indications that he had been informed earlier tho, much like Wong Tack, who has gone a step further and opted to run on his own in Bentong as an independent.
So now let's look at their performance –From a stats standpoint, most DAP candidates have strong loyalty to the party, and great work ethic. At a glance, all the candidates here have excellent parlimentary records, with almost full attendance (Pua being the lowest, but still at a very decent 77/89 sessions), and asking plenty of questions as an MP should. Also, although we haven't implemented our transparency scores yet, OKM would score pretty strongly here. Also, most of them are heavy hitters in the previous election, so they have near full scores for Availability, except for Su and Kathuriraani.
2. PKR (8 dropped)
PKR seems to be following DAP's footsteps as similarly, 8 have been dropped. Here are the ones we know for now.
So now let's look at their performance – From these screenshots alone, you can tell that the PKR candidates were mostly pretty good MPs as well, with Sivarasa, Maria, June and Natrah asking plenty of questions in Parlimen, and all of them of a good grade of attendance as well. Tan Yee Kew suffers a bit on the Loyalty front, having been originally from MCA, joining PKR first in the 2008 election.
However, for Michael Teo, who was announced as not running in a separate release from PKR Sarawak, he was unfortunately the bottom of our first attendance expose, although his officers did reach out to tell us that his attendance was poor due to health reasons. Since that report, we're happy to announce that he attended 17/19 days in parlimen after. Also, apparently he actually wanted to run.
3. BN (8 dropped)
Hmmm. Why does 8 seem to be the magic number?
But for BN, not only were 8 MPs dropped, but interestingly many of those who were previously ministers in Ismail Sabri's cabinet. We won't comment too much on why, except that it might have something to do with this. Here's a long list of casualties, some of whom have already announced that they will be running for other parties or as independents.
They've axed Shahidan (Federal Territories Minister), Adham Baba (Science, Technology and Innovation Minister), Muttalib (Deputy Housing and Local Government Minister), Mastura (Deputy Minister in the Prime Minister's Department), Halimah ( National Unity Minister), Zahidi (Deputy Communications, Multimedia Minister), and Annuar Musa (Communications and Multimedia Minister). Whew. On top of that, you've got Tajuddin, who was the controversial head of Prasarana (after the LRT incident). However, Annuar Musa pulled a surprise card by announcing that he had registered a party named Muafakat Nasional (originally meant as a pact between PAS, UMNO and BERSATU), and there's a chance that Shahidan will run under the same banner.
So now let's look at their performance – Let's be honest here. In general, BN's average attendance was significantly lower than other parties at around 75%, or 67 days out of the 89 we captured. Of the MPs listed here tho, most of them are pretty good. Shahidan, Zahidi, Halimah, Muttalib and Mastura all are significantly above that average, with Mastura only missing out on one day in parlimen, despite her ministerial porfolio. Tajuddin is just slightly below average. However, Annuar Musa, and Adham Baba's attendance scores are dismal. Despite that, all of these dropped MPs are active in parlimen, asking questions especially during the PH administration years.
4. PAS (2 dropped)
Two fairly high profile drops from PAS are former PAS chief Nik Aziz's son, and former Deputy Minister of Agriculture and Food Industries, Che Abdullah. Both were very good MPs with close to 90% attendance, and vocal during parlimentary proceedings.
5. AMANAH (1 dropped)
Thus far, this is the only other party with dropped candidates we can find. AMANAH announced that Sepang's Hanipa will be replaced by women's chief Aiman Athirah al-Jundi for this election.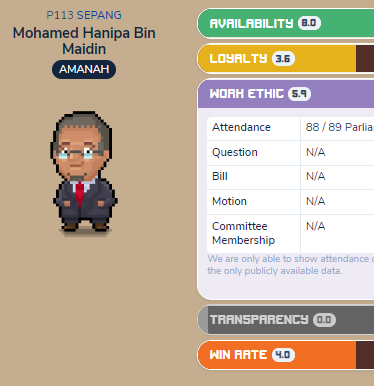 So now let's look at their performance – Not much to say here. Hanipa seems to be a diligent, if somewhat quiet MP. If he's asked any questions we werent aware of, please do let us know.
6. BERSATU (1 dropped)
BERSATU so far has only dropped one candidate, altho Tok Pa has commented that he is relinquishing his seat due to health reasons.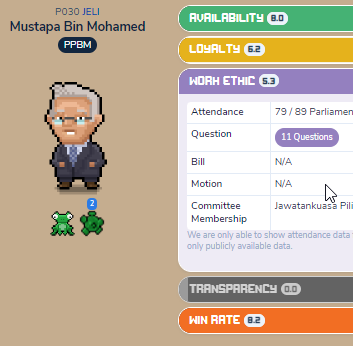 Based on his stats, he was a very decent MP who has pretty good attendance despite his apparent health issues,
Habis? Kesimpulannya?
MCA, MIC and BERSATU have yet to announce any dropped members, at least when viewed from their current membership (not pre-sheraton). While other parties have yet to make announcements, or at least ones we've seen, please let us know if we've missed any.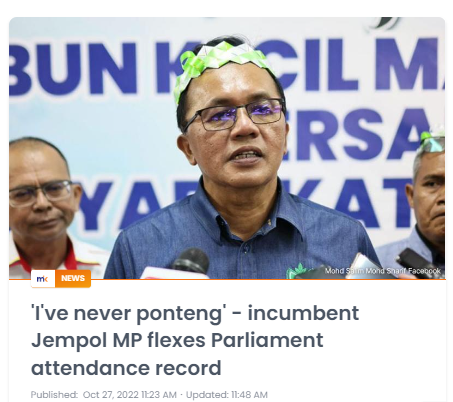 One MP that hasn't been confirmed as a BN candidate yet is Salim bin Shariff, who we coincidentally talked about in our last attendance coverage as the only UMNO MP with 100% attendance. He is using his exemplary attendance rate to justify keeping his seat in Jempol, and we would agree, as he is not only attending, but also very active in Parlimen as well.
Unfortunately, from this list, it seems (mostly) that MP performance isn't really a factor in whether or not they're kept as candidates. Of course, there are many other performance metrics we could have, but from the ones we're tracking, most of the MPs on this list are pretty decent. We hope to incorporate more metrics in future.
Did we miss any?
Do you think these MPs should've been dropped?
What performance metrics for MPs would YOU like to see?
Let us know in the comments below 🙂